Do you want to remove an old Windows Messenger, known as MSN from your computer? Here is the way to uninstall built-in Messenger that automatically installs with Windows itself.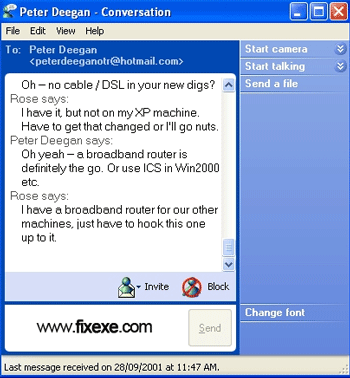 navigate to X:\Windows\inf and check for a file named sysoc.inf
make sure you back up sysoc.inf in case anything goes wrong
open sysoc.inf in your favorite text editor
find line msmsgs=msgrocm.dll,OcEntry,msmsgs.inf,hide,7
remove "hide" part from this code to get msmsgs=msgrocm.dll,OcEntry,msmsgs.inf,,7
save file the sysoc.inf file
Now you will be able to remove MSN Messenger.
go to start Control Panel
open Add or Remove Programs
scroll down to the bottom and select Windows Messenger

click next button to permanently remove MSN
Do you still have problems?
Fixy recommends you to run the best fix tool to repair and speed up your PC!

Registry Easy
(4.7 MiB, 7,795 downloads)
Works best with: Windows XP, Vista & 7